Apparently there is a new format on chess24 that also features Poker. It's all about synergy after all, so why not feed a few chessplayers to the wonderful world of online poker where they work mostly for the rake. Anyways, Svidler got some instruction last night from Patrick Leonhard on basically how to make sure that he loses to Grischuk, who is know to be a competetive poker player.
What did they focus on? The pre-flop-game of course, mostly constructing unexploitable ranges, so they can "play". The big mistake is that they want to "play". If you want to "play" all streets you are basically trying to grind your opponent down. Unfortunately the more decisions you have to make, the more mistakes you can make. Grinding down his opponents is exactly what Carlsen is doing. Svidler on the other hand is an all-in player. He plays sharp openings like the Grünfeld where everything is forced. He plays lines where he doesn't have to make decisions, because they come straight from the engine. The best strategy for him – and for any amateur in such a spot – is a foolproof push/fold-strategy. The idea behind this strategy is to get the money in as a small dog and to luck out. Something that doesn't work in cash games, works pretty well in tournament poker where life depends on one stack.
The poker veterans may remember Sklansky's "System", but that concept has been refined over the decades with the help of computers. The result is a push/fold-strategy that works for 50 BB, and that point can easily be reached after losing just a single hand.
The following graphic shows how the pot grows from a 3BB preflop-raise with potsize betting on later streets:
[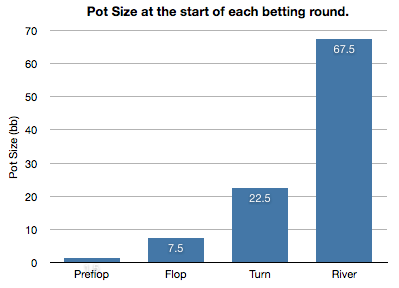 Poker is a game of super high variance. In the short run everything is possible. Preflop you are rarely worse than a 3:2 dog. For the record, it is not even trivial to play against an opponent who pushes 100% of his hands. If you run cold, you can't even call.
So why aren't they doing that? Well, the game could be over in one hand and that's bad for TV. In order to create a show, it's better if Svidler goes down slowly and wins a few hands inbetween.

Update: It's kinda funny what Grischuk and Haxton were talking about. Apparently Grischuk didn't need any advice on his preflop-game, so he asked Haxton about the calling-threshold with weak made-hands on the turn like if there was a clear answer. Then they discussed if loose calls have any advertisement value. Haxton was referring to PioSOLVER, which is the Stockfish of Poker, so emulating engines ist what it's all about these days. Still I don't buy these concepts for such a match, because short term luck is so dominant. Grischuk as the stronger player should focus on not giving Svidler good opportunities to push, so basically he should play a limping-strategy. In the end it won't matter much though, because in Poker you can do everything wrong and still have a decent shot to win one stack. The Luckbox usually ends up on top.
Something about Poker in general: Poker had some publicity in the 70s but as usual when people have lost all their money, it died out. The game got a massive boost in 1998 with the internet as the new medium and the Hollywood movie "Rounders". At the same time they promoted Poker on TV with the WSOP-coverage where in 2003 an accountant with the name "Moneymaker" won it all, or maybe there was a deal and they let him win it all, it's not so clear. This brought many amateurs to the tables to lose it all, because that's what amateurs do. After everyone and his brother of that generation went broke the game was more or less dead again. With Twitch they are trying push it a bit so maybe there will be a new boom. It will never be like it was in the early 2000s though. Of course Poker had it's share of scandals. Sophisticated cheating was always an issue, like nowadays in Online-Chess, and even major websites were involved in Ponzi-schemes. If there is money involved, there will be crooks. It's always the same story!
For Chess-players Poker is somewhat attractive, because stupid people make stupid mistakes, so there are lots of targets available. In an old book from the 70s "Play Poker, quit your job and sleep till noon" the recommendation was to look for opponents with a tattoo, because someone who is stupid enough to get a tattoo will probably make bad decisions in Poker as well. Times haven't changed.

Update: Ok, as expected the Poker was a luckfest. The Chess on the other hand was terrible, because Haxton knows what he is doing while Leonard is basically a beginner. Then Svidler took over and steered the event to the tie-break, which is also quite common for chess24 "promotions". The whole thing felt like a big show where the content was tailored more to adrenaline than to quality.